Seamless Short Wallet - Wood - ACC-SL03
true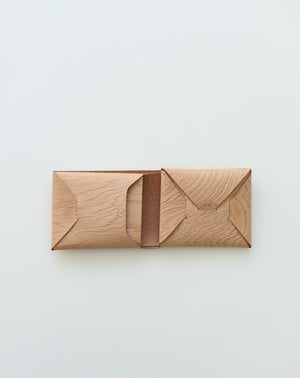 Seamless Short Wallet - Wood - ACC-SL03
A simple bi-fold wallet assembled by folding a piece of leather without sewing. Neat appearance, it is the most complex wallet in the SEAMLESS series. Each coin, card, and banknote is independent and has more storage capacity than it looks. There is a partition in the card compartment, make it is more organising. 
The back of the coin pocket is also a pocket that can be used by sandwiching cards and receipts.
* Approximately 10 cards can be stored depends on the thickness of a credit card. 
This is a leather with fine-grained tanning leather embossed with wood grain. Since the grain of wood differs depending on the part of the leather to be cut, no one is the same. In addition, as you use it, it becomes a unique luster and color iof aging.

Cow Leather
Color: Wood
(Also available in Nude / Yellow / Pink / Mint / Gray / Black. )

Dimension:
H9 x W10.5 x D2 cm
*The fundamental concept of Takahashi brothers (高橋兄弟) design is about three-dimensional structure. They applied the concept of Japanese Origami craftsmanship (摺紙工藝) to their design, such as by folding a piece of leather without sewing but assembling it! It is a unique design that is both practical and playful. The wallet contains more capacity and is easy to organise. Compact size with more capacity mean saver space for your bag.