Quilted Easy Pants / CQ-PEP12 / DARK NAVY (Pre order item - ready to ship in 1-2 weeks)
true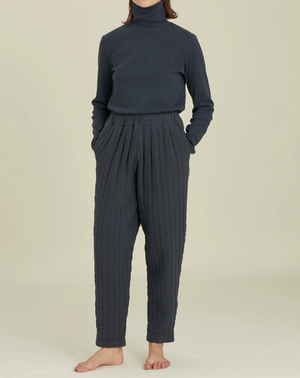 Quilted Easy Pants / CQ-PEP12 / DARK NAVY (Pre order item - ready to ship in 1-2 weeks)
// PRE ORDER ITEM //
// ESTIMATE READY TO SHIP in 1-2 weeks. //
// No refund or exchange, please consider well before purchase. // 
// We ship worldwide , delivery only , no store pick up //
A relaxed pants, super comfort.
Elasticised waistband. Tapered legs
Side seam pockets.
Perfect for layering with tunic/ dress
Soft textured padded fabric (lightweight)
THE PHOTO IS SHOWN WITH PLEATING AT THE FRONT. PRODUCTION WILL BE NO PLEAT AND MORE CLEAN LOOK AT THE FRONT
Color: Dark Navy
100% Cotton (fully lined), filled with polyester fill
Cold machine or hand wash, tumble dry low or dry flat, no bleach
Made in USA
Fit Comments

Regular Fit
(S): WAIST 26" - 30" STRETCHED
(M): WAIST 28" - 32" STRETCHED
There might be slightly difference in the measurement.
Model's waist 28" , wears size S.