Furlane Shoes - Avana Velvet - PAC007
true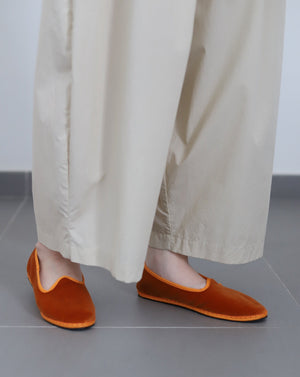 Furlane Shoes - Avana Velvet - PAC007
Little Story of the Furlane Shoes:
"In the region in Frioul, North East Italy, women in the countryside used to make footwear for their family with what could be recycled at home : so the bicycle tyres became the outer soles, old bedsheet could do the lining of the shoes, and discarded garments could become a fabric to use for the uppers of the shoes.
The shoes were ambidextrous and unisex, so everyone in the family could use them - people were used to work in the fields, or to stay at home, and fabric like velvet is special that people use it to make shoes and wear in the festivities. Women traveled the region with a cart walking around to sell the shoes, till they reached Venice, where the shoes were adopted by gondoliers, who found them comfortable and durable that could let them stand all day, and the rubber sole did not damage their precious gondola varnish!
Till these days, when there are still very few artisans who make them by hands. People always use something recycled , like the inner sole made of compressed rags or jute , or the outer sole where the rubber comes from recycled component and is printed with the shape of a bicycle tire pattern.
The construction of the shoes is very advanced, although it's an apparently simple but it is a reverse construction, like a glove !
It is assembled inside out just with stitches, no glue, then reversed , and the sole is sewn to the upper. So the shoes are
very soft, flexible and comfortable."
Slip on. Velvet upper. Recycled rubber sole. 
Color: Avana. Also available in Royal.
Handmade in Italy
Fit Comments
European Size 35-41. 
Run True to size