Ancient folk ramie linen wool jacket
true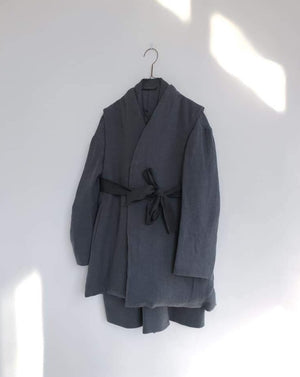 Ancient folk ramie linen wool jacket
"Beautiful universe fork wear.
Appeared from ancient and the future.
Made from brushed ramie and wool.
Like the light shadow, overlay the same fabric and same color.
When I'm standing in a beautiful ancient house,
Shining on a white light from the window."

It is layered with Folk Down Haori Vest . Haori Vest sells separately and is not included.  
Made in Kyoto, Japan. 
Color: Grey
Linen 90%, Wool 10% / Lining Cupro 100%
Fit Comments:
Japanese Sizing. 
(Size 1): Length 80.5cm / Width 58cm / Shoulder Width 54cm/ Sleeve Length 51cm

Model's height 165cm Bust 80cm Waist 63cm Hip 82cm