EM77 - Electric Kettle - Black
true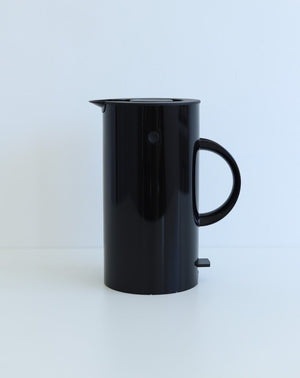 EM77 - Electric Kettle - Black
Erik Magnussen's iconic Vacuum Jug EM77 has adorned coee tables worldwide for more than 40 years, and now a whole new member of the EM family is introduced: The EM77 Electric Kettle, which will add the same style to the home as the Vacuum Jug has done for decades.
The EM77 Electric Kettle has a high performance that allows it to boil the water quickly with a minimum of energy consumption. The cordless kettle can hold 1.5 litres and is equipped with a removable limescale lter and dry boil safety switch.
A Beautiful Store is an official Hong Kong store authorised by Stelton.
Made in PRC
Color: Black
(Also available in Light Grey / White. )
· BPA and phthalate free
· Elegant cordless electric kettle
. UK plug (can directly use in Hong Kong and UK)
· Dry-boil safety switch and automatic switch off

Dimension:
W13.3 x H20.5 cm

Capacity:
1.5 L