Ginger Grater
true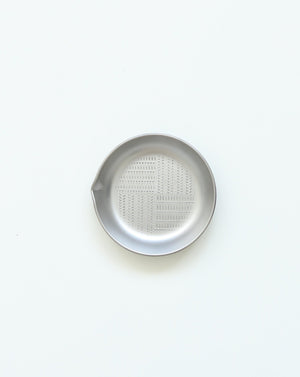 The best Grater for household! Different for traditional Japanese grater, the dish-shape grater could be place on table or fits in the your palm and be gripped firmly, allowing you to apply pressure easily!
Grate it in circular motion, the blades has four directions which makes grating much faster and easier, and ingredient can be scooped out effortlessly. 
You could do saucy seasoning directly n the grater and pour out from the spout. 
The manufacturer is located in Niigata, Japan, famous for its metalwares. They create utensils in which users are able to use for a life time. Pay attention to details and design from the user's point of view and habit. 
Made of Stainless steel, the most common material used to make daily utensils as it is easy to clean and care. It has a durable and long-lasting properties. 
. Dishwasher safe
. No microwave or oven

Made in Niigata, Japan
Material: 18-0 Stainless Steel
Dimension:
W8 x H1.5 cm