Fold Mini Wallet - Pale Blue - ACC-F02
true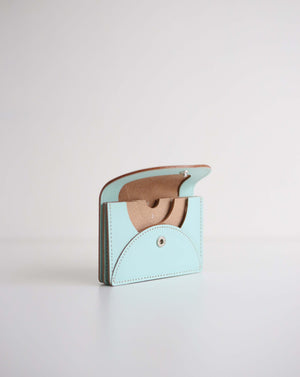 Fold Mini Wallet - Pale Blue - ACC-F02
It is a All-In-One It is a card-sized compact mini wallet! Designed by folding circles to find a function. When you open the flap with a design in which semicircles overlap, a three-layered circle composed of partitions appears.
In the numbered pockets, "1" is for coins, "2" is for banknotes / cards (about 5 cards can be stored per partition), and "3" is for cards. * Banknotes can be folded into 3 or 2 for storage.
To remove coins, tilt your wallet toward you and slide it out. The flap that serves as a coin tray has a rim, so you don't have to worry about dropping coins if you stand by gently lifting the rim with your fingers.
You can use the partition freely as a business card holder or a multi-case.
* Up to 3 credit cards can be stored in one pocket, up to a maximum of 6 cards.
In order to make the best use of the original look of leather, the surface processing is suppressed as much as possible to give it a natural look. Therefore, there are scratches and wrinkles that natural materials originally have, color unevenness that occurs during dyeing and processing, and black spots. These will naturally become familiar and less noticeable as you use them.
Made in Japan.
Vegetable tanned cow leather
Color: Pale Blue 
(Also available in Brown and Black.)

Dimension:
H7 x W10 x D2 cm