Kago Tote Bag M - Black - BAG-K03
true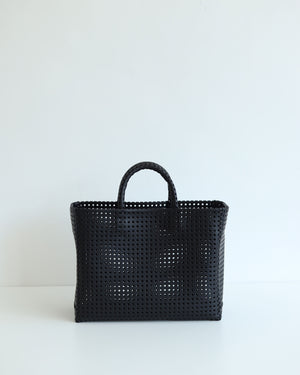 Kago Tote Bag M - Black - BAG-K03
KAGO Tote Bag is attached with a shoulder belt, in addition to hand carrying, it can also be carried as a shoulder or crossbody bag.
The design of KAGO Tote Bag give people with pragmatic feeling. It is very light-weight while equipped with small compartments inside. The whole body is woven by hands with narrow belts. A piece of meticulous craftsmanship!
Architectural aesthetic. The design of Takahashi Brothers always remind us of architecture design process - analyzing, dismantling and reorganizing.
Made in Japan
Cow Leather
Color: Black
(Also available in Nude. )
Size: M
Dimension:
Body: H25 x W35 x D13 cm
Strap: 93 cm