Pop Up Long Wallet - Gray - ACC-PU03
true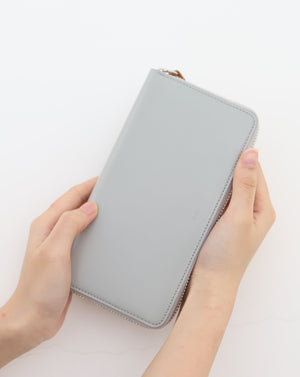 Pop Up Long Wallet - Gray - ACC-PU03
Yataro Matsuura (松浦彌太郎) once said, " in order to attract money, other than learning how to make money, you also have to pay respect for money by providing a neat and tidy and comfortable place for them. Therefore, the first requirement is to choose a quality wallet - well organised compartments with clear divisions.
And the Pop Up Long Wallet is the perfect one! 
Round zipper type long wallet When you open the zipper, the partition opens wide like a pop-up book, and you can see the rooms of coins, cards, and bills at once. You can keep a slim shape without swelling even if you store it a lot. Since the wallet is divided into two, you can use it as a free pocket for organizing bills, receipts, receipts, tickets, etc. The original structure card holder placed in the center is made to insert cards vertically, making it very easy to put in and take out, and has excellent storage capacity.
* Up to 3 credit cards can be stored in one pocket, up to a maximum of 30.

This flat glossy leather coated with synthetic paint. It is easy to handle because it is highly water repellent, resistant to water, durable and does not require care.
Cow Leather
Color: Gray
(Also available in Black.)
Dimension:
H10 x W19.5 x D2.5 cm

*The fundamental concept of Takahashi brothers (高橋兄弟) design is about three-dimensional structure. They applied the concept of Japanese Origami craftsmanship (摺紙工藝) to their design, such as by folding a piece of leather without sewing but assembling it! It is a unique design that is both practical and playful. The wallet contains more capacity and is easy to organise. Compact size with more capacity mean saver space for your bag.