Knife - A Table / Ryo-202
true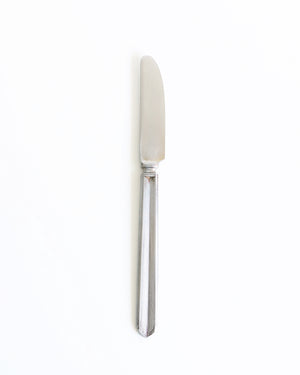 Knife - A Table / Ryo-202
The simple and smooth handle makes it a delight to hold. Ideal for steak or veggie.

Blueprint the silhouette of the classic European silverwares while polishing the surface of stainless steel with an aged process. Take a closer glance at the rich texture and the vintage finish. Each piece has a ridged handle.

Hand-wash only. No dishwasher, microwave or oven.

As each piece is hand hammered, slight differences may occur in surface texture. Please consider before purchasing.

Made in Japan

Material: Stainless Steel

Measurement : L224 x 49 mm

The Ryo Cutlery Series is a collaboration between metalware artist Yuichi Takemata (竹俣勇壱) , designer Osamu Saruyama (猿山修) and manufacturer Tasan Kinzoku (田三金属). We are delighted to announce its official launch to everyone in Hong Kong.

About Osamu Saruyama
As a famous designer of product, cutlery, space and graphic, he utilises his influence to inject a lot of new designers into Japanese craftsmanship, connecting the traditional craftsmen and workshops for them, assisting both parties like a mentor while supervising all the projects.
All of his designs and his supervised projects have always become a guarantee of good works! "I truly hope our pieces could make people's life better." He once said.

About Yuichi Takemata
Each piece is hand finished by metalware artist Yuichi to give the series an antique appearance. For those who are collectors of Japanese Tableware probably know Yuichi's works also! He contributes a lot to the Japanese metal production industry.
With his background in repairing antique jewelry, his focus is on making unique shaped cutlery that gives stainless steel the patina of age.  He states, "I just want to make items with forms and designs of my own."