Light Comfort Pants - Ink
true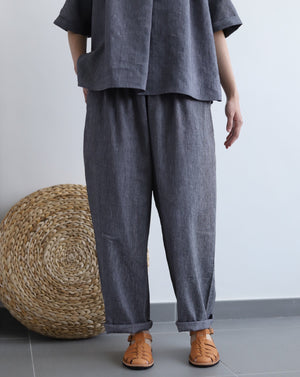 Light Comfort Pants - Ink
Originally, this whole outfit - Medium Shirt with Comfort Pants was purely made for ourselves only. We designed the first version and turns out everyone liked it so much we decided to make it for public. We improved the cutting a bit and finally, made the most satisfactory version.
Slightly ballon shape, full length. Slash pockets at front. 
Comfy and breathable mixed linen fabric.
Elastic Waist
Color: Ink
Linen 59% / Polyester 40% / Polyurethane 1%. Japan Fabric. 
Made in Hong Kong

Fit Comments
Loose fit. 
Measurement:
(F): Waist: 26" ( before stretch ) / Hip: 52" / Length: 39"

There might be slightly difference in the measurement.

W's height: 160 cm
Yo's height: 170 cm