Light Cropped Pants - Black
true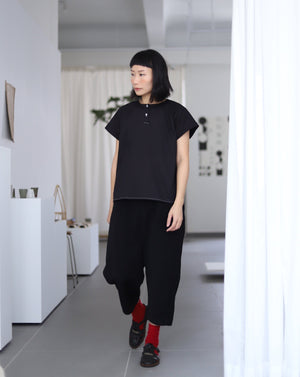 Light Cropped Pants - Black
The first cropped pants of Light!
Tapered leg. Zip fly closure with two buttons. Belt loops. Slash pockets at front and two back pockets.
Recycled plastic buttons.
The story began with an old button production factory near the studio of our tailor. The factory often discard loads of un-used buttons and some of them are made for international fashion labels.  Instead of seeing all these usable buttons going to waste landfill, our tailor pick as much as he could back to his studio and discuss with us. When we first make our collection, we decided to use only natural shell buttons and not buying any plastic one. But when we saw these loads of abandon materials we decided to re-use them as much as possible for our Light collection. So now besides natural shell buttons we also use recycled plastic buttons too. :) 

Color: Black
Polyester 100%. Water proof. Japan Fabric. (The power of the water proof surface will decrease by washing from time to time)
Made in Hong Kong

Fit Comments
Regular fit
Measurement:
(XS): Waist: 28.5" / Hip: 34" / Length: 31.5"
(S): Waist: 30" / Hip: 35" / Length: 32"
(M): Waist: 31.5" / Hip: 39" / Length: 32.5"
(L): Waist: 33" / Hip: 42" / Length: 33"

There might be slightly difference in the measurement.

Model's height: 160cm, wearing size S.