Light Embro Vest - White Embro
true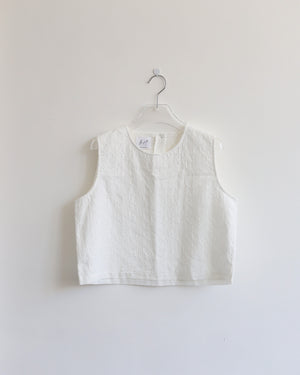 Light Embro Vest - White Embro
Beautiful embroidery fabric! Slightly cropped length for extra layer styling.
Lining 100% cotton fabric underneath creates a smooth and silky touch on your skin. 
Shell button closure at the back.
Color: White Embro
Outer: Polyester 70% Cotton 30% / Lining: Cotton 100%. Japan Fabric. 
Made in Hong Kong.
Fit Comments
Relax Fit
Measurement:
(S): Chest: 40" / Length: 18.5"
(M): Chest: 42.5" / Length: 18.5"

There might be slightly difference in the measurement.

Yo's height: 170 cm, wearing size S.