Light Forest Dress - Indigo
true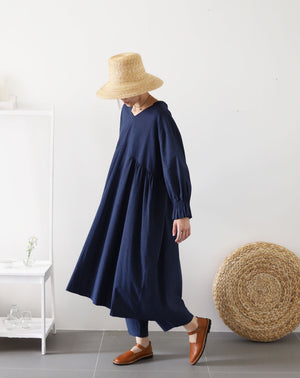 Light Forest Dress - Indigo
Our Forest Dress has a cute spirit. A little rectangular cape at the back along with smocking raw-edged sleeves. Wandering around in the forest and in the city. 
V neck. Elastic sleeves.
Model wears with Light Easy Pants

Color: Indigo 
Linen 45%  / Rayon 22% / Polyester 18% / Cotton 15%. Japan Fabric.  
Made in Hong Kong

Fit Comments
Loose Fit
Measurement: 
(F):Chest: 47.5" / Length: 46"
There might be slightly difference in the measurement.

Model's height: 170 cm