Light Goodday Rain Coat with hoodie- Rain Army
true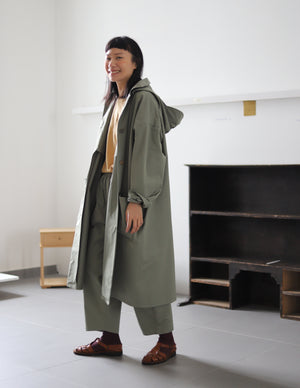 Light Goodday Rain Coat with hoodie- Rain Army
/ RAIN SERIES /
It is our first unisex item of Light collection, especially for male customers who keeping requesting for the men's rain wear! 
Begins with the model of classic worker jacket, enlarging and reducing the ratio of the collar. You can even fully button up to create two different styles and mood.
Oversized tailoring, effortless and handy. We aim at styling with Goodday Coat in anytime, anywhere.
Detachable hoodie design, with duckbill cap shape, you can frame down the duckbill, or reverse it as well. We suggest customers who wear glasses can try framing down, so that the lens can prevent spilling by the raindrops. Attaching the hoodie by the button ears can help reducing the weight of the coat. Even if the hoodie is removed, the shape of neckline can still be maintained.

Water-proof Fabric. Breathable. 
Detachable hoodie. Detachable belt loop. Front Pockets. 
Natural raw black shell buttons. 
Color: Rain Army (Model wears Rain Grey color which is already discontinued, those photos is for fitting reference only) 
Polyester 100%. Japan Fabric.  (The power of the water proof surface will decrease by washing from time to time)
Made in Hong Kong.

Fit Comments
Relax Fit
Measurement:
(F): Chest: 63" / Length: 43" 


There might be slightly difference in the measurement.

W's height: 160 cm.
Yo's height: 170 cm.