Light Coat with hoddie - Rain Camel
true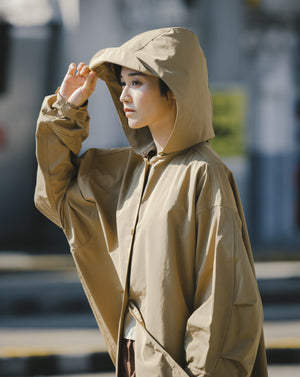 Light Coat with hoddie - Rain Camel
Let's dance in the rain! 
The founder of LIGHT is never an umbrella person and it inspires us to create a collection that could wear during light rain and looks good. Actually more than good but beautiful and effortless! So we look for suitable fabric other than traditional one, and we found this water proof fabric from Japan and it is so breathable and comfortable that you could wear it all time even not raining. 
You can easily intersperse under the umbrella pile, wander around freely, without a drop of rain!
Cloud-like sleeves, three-dimensional tailoring together with slightly curved back line. So that you can wear pleasantly even you are wearing packed inside.
With or without hoodie, Detachable hoodie design in duckbill cap shape, you can frame down the duckbill, or reverse it as well. We suggest customers who wear glasses can try framing down, so that the lens can prevent spilling by the raindrops. We use earloop to attach the hoodie in order to enhance comfort and maintain clean shape when hoodie is removed.
Recycled plastic buttons:
The story began with an old button production factory near the studio of our tailor. The factory often discard loads of un-used buttons and some of them are made for international fashion labels.  Instead of seeing all these usable buttons going to waste landfill, our tailor pick as much as he could back to his studio and discuss with us. When we first make our collection, we decided to use only natural shell buttons and not buying any plastic one. But when we saw these loads of abandon materials we decided to re-use them as much as possible for our Light collection. So now besides natural shell buttons we also use recycled plastic buttons too. :) 
Color: Rain Camel 
(Also available in Rain Choco. )
Polyester 100%. Water proof. Japan Fabric. (The power of the water proof surface will decrease by washing from time to time)
Made in Hong Kong

Fit Comments
Oversize Fit
Measurement:
Chest: 59.5" / Length: 37.5"

There might be slightly difference in the measurement.

Model's height: 160 cm