Light Relax Shirt - Gingham Black
true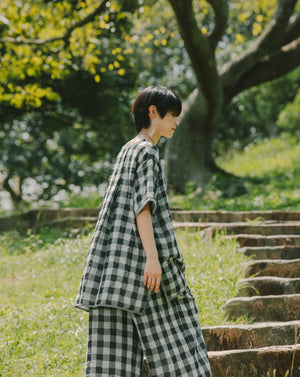 Light Relax Shirt - Gingham Black
Light Relax Shirt is reversible and can be worn on both sides! Bigger Gingham on one side and small gingham on the other side.
Medium length. Sides Slit.
Models wear with Light Skirt Pants in Gingham Black.
Color: Gingham Black
(Also available in
Gingham Blue
. )
Polyester 42% / Cotton 33% / Cupo 20% / Linen 5%.
 Japan Fabric.
Made in Hong Kong

Fit Comments
Oversize Fit
Measurement:
(XS): Chest: 55" / Length: 34"

There might be slightly difference in the measurement.

Models' height: 160 cm, wearing size XS.