Luisa 1L Carafe - Antwerp Blue - LC100T/35
true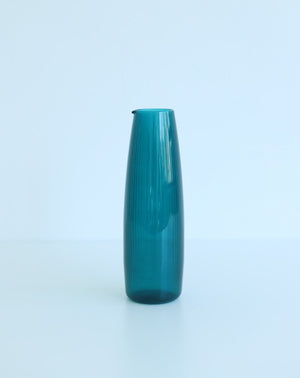 Luisa 1L Carafe - Antwerp Blue - LC100T/35
A versatile yet beautiful object that brings you joy.
The Millerighe texture on the glass is actually inside the vessel, which is extremely beautiful!
Crafted from Borosilicate glass, known for its resistant quality. It is shaped with traditional mouth blowing technique. Inspired by the rationalist and modernist architecture. They believe the beauty and the power of color, and create glassware through honest traditions. 
Classic artisans and small traditional manufacturers work together as a team to create meaningful products that are functional and sustainable for eveyone's life!
Hand wash only. Please use soft non abrasive sponge and dish liquid.
Handmade in Italy.
The tumbler sells separately and is not included.
Material: Borosilicate glass
Color: Antwerp Blue
(Also available in Citrine Green / Cameo Pink / Sand. )
Dimension:
ø8 x H25 cm

Capacity:
1 L
TECHNICAL INFORMATION : Borosilicate glass is a premium and high quality type of glass that has many technical attributes which allows for an elegant every day use. It is very durable and it will not crack under extreme temperature changes like regular glass. Its durability has made it the glass of choice for high-end restaurants and wineries. 

Borosilicate glass is made up of about 15% boron trioxide, an ingredient that changes the behavior of glass and makes it thermal shock resistant. This allows the glass to resist extreme changes in temperature and that is measured by the "Coefficient of Thermal Expansion," the rate at which the glass expands when it is exposed to heat. Borosilicate glass has the ability to go straight from a freezer to an oven with- out cracking and stand temperature of up to 500 °C or 932 °F. 
This product is made from borosilicate glass as the base, however it has gone through a special treatment to achieve this beautiful colour. For this reason it is limited to use for lower temperature liquid drinks and it is not recommended to be used for hot or boiling liquids drinks or prolonged exposure to heat sources like fire, microwave or dishwashers. When using borosilicate glass your beverage will taste better and the liquid inside remains pure, as borosilicate glass has low solubility, it keeps your beverage free from contamination.