Oilve Oil - WV001
true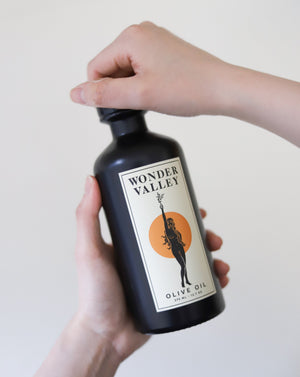 The love and lore of olive oil goes back thousands of years. Greek Olympians bathed in it, Roman kings were anointed by it and for centuries life was illuminated by olive oil. It is a beloved and staple ingredient of most kitchens, a universal life-enriching ingredient. 
WV produces an extraordinary extra virgin olive oil, hand-harvested from our groves in Lake Country, California and pressed within hours of harvest by a master miller. Our oil elevates any meal through its bright, herbaceous, peppery flavor and delivers a delicious dose of polyphenols, the powerful antioxidant associated with longevity of life. The olives are hand-picked under ripe, yielding a greener oil, longer shelf life, and more health benefits.

. Matte black UV coated bottle protects oil integrity and extends shelf life
. This bottle is 100% plastic free - made of glass, cork, wood and paper
. Certified extra virgin grade by the California Olive Oil Council
** Best used within 18 months of the harvest date, which is stamped on the top of each bottle.
Ingredients: 100% olive oil
Capacity: 375 mL