Patti Leather Shoes - Nero
true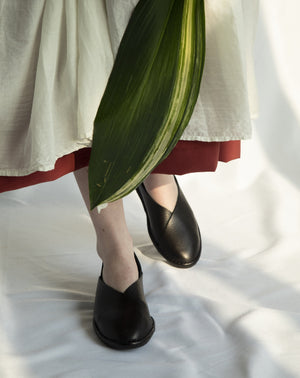 Patti Leather Shoes - Nero
"Made with Love and Attention. An experimental, creative yet traditional house preserving traditional shoes craftsmanship, exploring shoes construction and produce them in the love of our environment. Only work with leathers that come from vegetable tanneries and focus as much as possible on natural shoe components, such as recycled, water based products and low chemical content materials. Small production. "
Recycled sponge insole made of olive bones lined with soft vegetable- tanned leather. 10mm heel made of recycled rubber injected on leather sole.
Almond toe. Billy Stitch Construction. Raw edges. 
Color variation appears on leather and it is nature of this leather.
Color: Nero. Also Available in White.
Handmade in Spain. 
*Italian vegetable-tanned leather:
Its treatment is clean, free of chromium which is safe for the health and for the environment, it is resistant to water and high temperatures, breathable and its appearance is unique. These material naturally beautifies over time.
*Water-based glues: Makes the process clean, safe, not harmful to health and will not generate a strong impact on the environment.
Fit Comments
European Size 35-40. Run true to size. If you are between sizes or wider feet, recommend to go up