Knit Bag - Collaboration with WU JUI CHE - 22003
true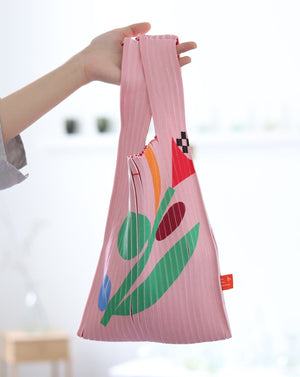 Knit Bag - Collaboration with WU JUI CHE - 22003
Just stretch it and you will discover more. We are all amazed by the large flower pattern. How graceful to carry the bag with you on a casual and sunny weekend.
It can be folded in a tiny size, just like a blooming flower. So, you can store it in an organised way! 
Carrying daily necessities such as a wallet, a mobile phone, make up and sanitising pouch and even an umbrella won't be a problem!
Reversible. Elastic. Machine wash.
This is a collaboration with artist, WU JUI CHE.
Made in Taiwan

100% Polyester
Dimension: 41 x 22 cm ( Stretched width 60 cm )

"Plant One On Me" Plisse Knit Bag by Taiwanese knitwear designer Yu Mei Huang
About the process
Knitting is associated with folk art and handicraft, and therein lay a signature charater in Yu Mei's design. The fabric of the Plisse Knit Bag is knitted in a designed structure therefore it creates a three-dimensional pleated pattern. The shaping technique used for each bag completes the shape at the end of the weaving process, eliminating the need for cutting.
This reduces the need for cutting and it means also reduce the need for redundant waste.
Printing - Handcrafed heatpress printing plays an important role in the making process. Printing on the knitted pleats fabric challenged the traditional printing techniques which requires not only specific temperature and printed timing but also related to how the pattern paper connect with the fabric.
Linking - It is a technique of connecting knitted fabrics, which has a pair of needles operating sequentially so as to form a secure stitch joining the fabric together, thus ensuring that at least one of the needles will engage into the loops of the fabric to be linked.
All of the process requires different levels of craftsmanship and technology.
That's why we appreciate them a lot, especially the Taiwanese printing old master who has been working closely with Mei Huang.