Pouring Bowl and Strainer Set 26
true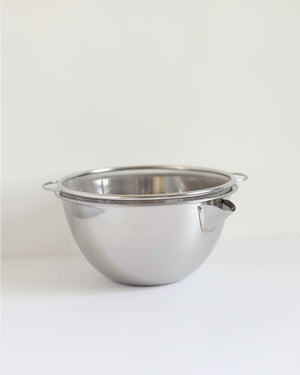 Pouring Bowl and Strainer Set 26
It's perfect for rinsing noodles and vegetables, and even washing rice. The spout allow excess water out on the side, so you can keep the water running or pour noodles out of the pot without overflowing! Stainless steel is better for prepping raw meat as it has higher resistance to bacterias than plastic one as well as pouring hot liquid. 
Sturdy 14 mesh strainer provide higher density that makes it perfect for prepping fine somen. 
The manufacturer is located in Niigata, Japan, famous for its metalwares. They create utensils in which users are able to use for a life time. Pay attention to details and design from the user's point of view and habit. 

Made of Stainless steel, the most common material used to make daily utensils as it is easy to clean and care. It has a durable and long-lasting properties. 
. Dishwasher safe
. No microwave or oven

Made in Niigata, Japan
Material: 18-0 Stainless Steel (14 mesh)

Dimension:
W26 x H13 cm
Capacity:
3.2 L