Light Ribbon Shirt - Twinkle Beige
true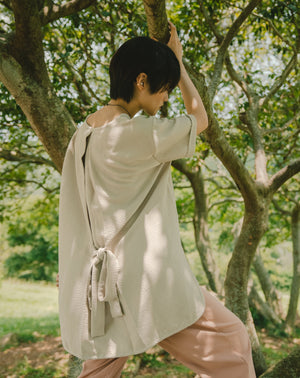 Light Ribbon Shirt - Twinkle Beige
We like wear oversize men shirt and it inspired us to create this Ribbon Shirt - starts from the proportion of a men's shirt.
The slits at both sides allow free body movement. A simple and clean body front with a tied ribbon at the back, a balance between man and woman. 
This twinkle beige fabric is particularly soft and comfy, love it!

W and Kristy wears with Light Easy Pants in Light Pink.

Color: Twinkle Beige 
Polyester 98% / Spandex 2%. Japan Fabric.
Made in Hong Kong

Fit Comments
Oversize Fit
(XS): Chest: 51" / Length: 33.5"
(S): Chest: 52" / Length: 34.5"

There might be slightly difference in the measurement.

W's height: 160 cm, wearing size XS.
Kristy's height: 163 cm, wearing size XS.