Rinka Mini Plate III - R103
true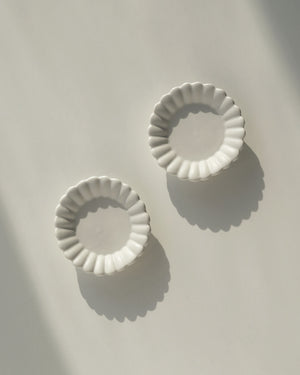 Rinka Mini Plate III - R103
Porcelain sauce plate with graceful chrysanthemum-shaped (輪花) edges, just the thing for holding soy sauce, teriyaki or mayonnaise and so on. Perfect size as a saucer, pairing with any small and simple tea cups.
Inspired by the natural form and the timeless beauty of simplicity, the signature flower-shaped series of white porcelain pieces reinterprets the traditional craftsmanship in the modern practice. Their aesthetic is to make more than just the tableware - it also embodies the concept that "a dish is a frame for the food served on it". 
No oven. Microwave and Dishwasher Safe.
As each piece is crafted by hand to create the shape of the petals, slight differences may occur in surface texture. Please consider before purchasing.
Made in Japan
Material: Porcelain
Dimension : φ8 × H1 cm

About USUKIYAKI
USUKIYAKI was born in the late Edo period and ceased to be produced after a brief ten years. Usuki refers to the name of the place and Yaki (焼き) can mean ware. Usuki ware (臼杵焼) is a term to describe the type of Japanese pottery that were produced in Usuki. 
In 2015, Mr. Usami and Mr Yakushiji ( the founder of The Usuki Ware Research Institute) spearheaded efforts to revive the Usuki's pottery tradition based on the old pieces, and today handle the production of porcelain and earthenware in the same workshop.