Shake Closed Texas Sandals - Navy
true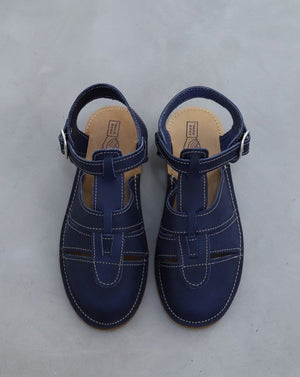 Shake Closed Texas Sandals - Navy
Sandal Shoes have become a signature item of A Beautiful Store. We always adore neutral design. We are proud to introduce this pair of handmade vegetable tanned sandals from Austria! Super lightweight, and the leather is produced by one of the best vegetable tanner in Tuscany, Italy. The soft rubber sole reduces the pressure when walking. 
The Closed Sandals series is made by craftsmen in the mountains of Southern Poland. It is made with the simplest tools. In summer, the locals are busy for harvest and in winter, they produce sandals! Adapting to nature and climate, and living in the mountains, humbly.
Contrast stitching. Made with vegetable tanned calf leather. The rubber sole create a flexible, non slippery and comfortable fit. 
Made in Poland.
Color: Navy. The color of this leather changes over times, so soo beautiful! 
Fit Comments
European Sizing 35-40. 
Run true to size.