Round Food Tray with Flat Strainer Set
true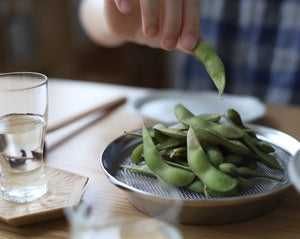 Round Food Tray with Flat Strainer Set
Love it! It's so multi-purpose!
This set comes in a set of two, a Flat Strainer and a Food Tray. They can be used together or separately, from food preparation to serving.
It has 3 different sizes catering different usage, flexible and many of us choose more than one sizes to fit different purpose.
For food preparation, place meats and vegetables on it while cooking, or bring it to your dinning table as a tray directly. It has no rim so preventing dirt and bacteria may build up and it is easy to wash. 
Spread your food out in this flat strainer for a quick draining. Since the strainer is footed, the bottom will not touch the table surface, making it more hygienic! Washing fruits such as strawberries in this strainer and bring it to the table with the Round Food Tray, and you will be able to cut down on dirty dishes. 
The Flat strainer has higher density that makes it perfect for prepping fine somen. 
The manufacturer is located in Niigata, Japan, famous for its metalwares. They create utensils in which users are able to use for a life time. Pay attention to details and design from the user's point of view and habit. 

Made of Stainless steel, the most common material used to make daily utensils as it is easy to clean and care. It has a durable and long-lasting properties. 
. Dishwasher safe
. No microwave or oven

Made in Niigata, Japan
Material: 18-0 Stainless Steel
Dimension:
.Round Food Tray with
 Flat Strainer Set 
16 : W16 x H2.7 cm
.Round Food Tray
with
 Flat Strainer Set 
19 : W19 x H2.8 cm
.Round Food Tray
with
 Flat Strainer Set 
22 : W22 x H2.8 cm