Saucer "Kenmokko" - Brass
true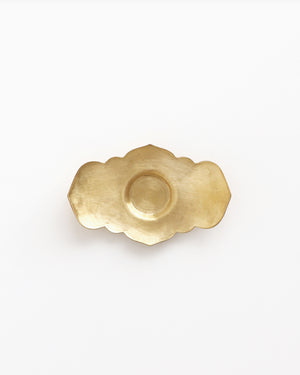 Saucer "Kenmokko" - Brass
Brass saucer with Kenmokko-shaped (剣木瓜) edges, pairs it with any small tea cups. Simple yet delicate. It brings a touch of elegance to any teatime. The brass oxidizes to give an antique finish over time. 
Take a closer glance at the rich texture and the vintage finish, each piece will age with grace to become the timeless hammered tableware inspired by vintage pewter-ware.
Hand-wash only. No dishwasher, microwave or oven.
Wash it by hand with a soft sponge. Pat dry with a soft, dry cloth.
As each piece is hand hammered, slight differences may occur in surface texture. Please consider before purchasing.

Made in Japan.

Material: Brass

Dimension : L12.8 x W7.7 cm  ( center:  ø3 cm )
 

About Yuichi Takemata
Each piece is hand finished by metalware artist Yuichi to give the series an antique appearance. For those who are collectors of Japanese Tableware probably know Yuichi's works also! He contributes a lot to the Japanese metal production industry.
 
With his background in repairing antique jewelry, his focus is on making unique shaped pieces that give stainless steel the patina of age. He states, "I just want to make items with forms and designs of my own."