Compact Wallet - Brown - STW-05
true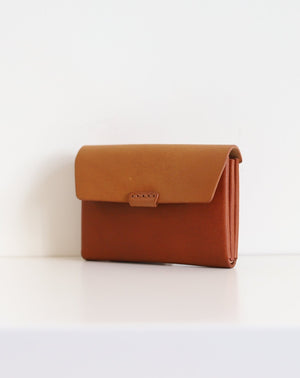 Compact Wallet - Brown - STW-05
The functionally designed compact wallet has three compartments, expands to carry cards, bills and coins. If you don't carry coins in your wallet, the coin pocket fits cards.
Since the leather used is natural, it has varying textures and may have slight blemishes, unevenness of color, or wrinkles.
This uncolored French cowhide is used only for nude color products, showing off the leather's natural beauty. Only French vegetable tannins can produce this pale color, not Japanese tannins. It is treated with a high quality protein-based finishing agent, which slows the color changes, compared with other types of cowhide. This pale, natural leather color will last for years to come.

Made in Kanawaga, Japan. 

Flap: Vachetta Leather
Body: Steer Oiled Leather
Interior: Natural Veg-tanned Leather
Color: Brown
(Also available in Nude / Oak / Black. )
Dimension:
8 x 11 x 2.5 cm
Product Care:
All leather used in here is processed without pigments in order to feature the genuine leather's character, without hiding natural blemishes and color variation. Please note that it tends to stain with water or sweat and may discolor. When it comes into contact with water, wipe it off with a dry, soft cloth immediately and air dry. When a water stain lingers, wet a soft cloth, wring out excess moisture, and gently wipe around the stain to make it less noticeable. Minor scratches will become unnoticeable with use. You can apply an appropriate amount of leather cream if you like. It's not necessary to apply excessive oil since the leather already contains plenty. Only when the surface looks dry, apply leather cream. Wiping it off with a dry, soft cloth is sufficient as daily maintenance.